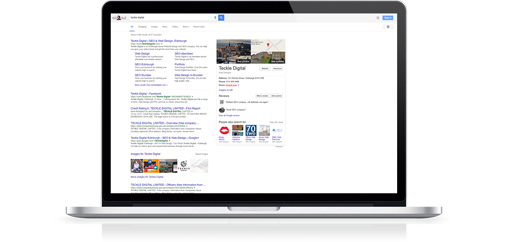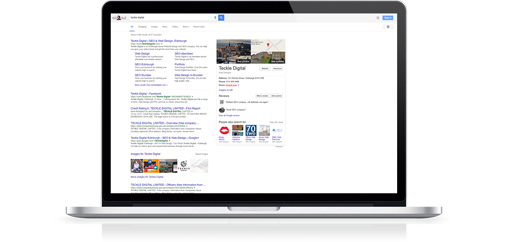 Search Engine Optimisation in Fife
Getting more customers to from your website is exactly what our SEO service aims to do. We target keywords that your customers search for on Google (and other search engines) and then optimise your website so you will show on page one. Our SEO has a proven track record for getting our clients to page one. Not only have we secured page one but in many cases, we have been able to secure the elusive #1 spot on Google. 
Get in touch today and find out how we can help your business. 
So you are looking for SEO services in Fife? You have come to the right place, but you know that – we do rank well on Google after all! We have a track record of doing SEO for Fife (Dunfermline, Kirkcaldy, Glenrothes and St Andrews) companies getting them more organic search visibility on all the main search engines with our SEO Fife service. 
Why choose Teckle Digital for Fife SEO?
Firstly, although we are based in Edinburgh that doesn't mean we work on "Edinburgh Prices", our prices are based on how much work it will take as well as how much of a return on investment YOU will get. That means although Fife is a large area the search volumes are generally smaller than that of a large city such as Edinburgh or Glasgow, meaning in most cases competition is lower – in other words, it's generally cheaper to rank websites using Fife SEO. 
Based the competition in Fife in a certain industry, one of our clients pays £100 per month to rank on page one of Google. It's doubtful you will find an Edinburgh based company that can work on those types of rates for a Fife based business. 
Why else should you choose us?
We use only the best and latest SEO techniques for ranking websites. we do not conduct any old techniques such as building massive amounts of links, keyword stuffing or simply anything we don't think is worth it in the long run. We want your website to rank on page one long term, so we don't go for quick fixes,  "hack" or spam. 
Our SEO Fife service consist of, but not limited to:
On page SEO – Ensuring the website code is friendly to Google and it also makes semantic sense

Content Audit – We make sure your content is readable and conveys the correct message to your customers and also ensure it follows all the guidelines for ranking high in Google

General Website Audit – This aspect covers ensuring the website loads quick and is also mobile friendly. 

Content marketing and link building – We spend most of our time building links from reputable sources which will give your company exposure to new customers and will also provide "SEO power"

Social media – we don't generally take control of Social media, but we will give tips on how it can be managed more effectively if required. 
SEO Fife prices and quotes
As we have already mentioned our prices are always affordable. We base our quotes and prices on the competition of your industry to ensure you have the best chance of getting the elusive #1 spot, on page one (that's right, were not a company that aims for anywhere on page one, we aim to be #1). Without knowing what industry you're in or how much work your website needs its impossible to give you a quote. That being said we have some Fife SEO clients that have ranked very well on page one for £100 per month, that price is not the norm, though. In most cases, Fife businesses should expect to pay around £200 per month for SEO. 
We also provide FREE no obligation quotes for companies based in Fife. Our quotes come with a quick audit of where your website is now and what we can do to help you as well as some FREE SEO tips. Remember to get in touch!