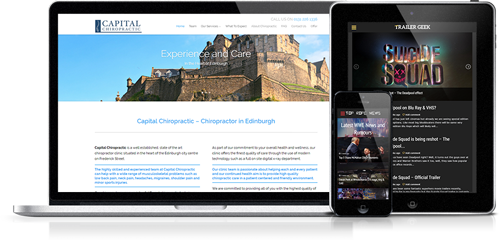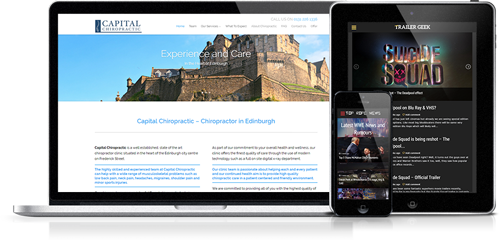 Professional Web Design Agency in Edinburgh
Teckle Digital are a full-service digital marketing agency meaning we provide everything from SEO to web design. We pride ourselves in providing our clients with websites that are designed well and work great. Our processes for web development are streamlined, ensuring your new website can be launched on time and within your budget.
We are well known around Edinburgh for providing services at affordable prices with great results.
Teckle Digital specialise in providing high quality, professional and affordable website design services throughout the Edinburgh area. We have over a decade of experience doing web design and development of all shapes and sizes for businesses all around Scotland and we even have some international clients.
We can design small to medium brochure/Informational websites for local businesses ( Accountants, Chiropractors, Plumbers, Solicitors, Schools – the list goes on) as well as complex data-driven web applications (E-commerce, Estate agents etc.) and niche social networks.
We take a lot of pride in working with our clients. We aim to produce the very best website for your business needs and well within your budget. Ensuring your website is usable to all of your visitors is of paramount importance to us, which is why we do not charge extra for a mobile friendly websites – it is included in every quote!
Why Choose Us For Your Project?
Firstly, we are a leading SEO company which means we don't only know to build a nice looking website with all the bells and whistles that you need, but it means we know how to build a website that is search engine friendly and will have the best chance of getting to page one when partnered up with our SEO service. 90% of people that read this will know this reason alone is enough to get in touch with us. Understandably, others will want a few more reasons.
Let's be honest, any company or freelancer can put together a website for you. It may even look nice and seem to work well, but does it give your business a measurable improvement in revenues? If our client's past freelance web designer experiences are anything to go by then likely not. Here at Teckle Digital, we don't just design you a nice looking website, we go one step further and design towards a website that converts your visitors into leads and/or paying customers.
Where we stand out from the crowd is in our understanding of how your website MUST be able to help grow your business. In other words, we help our clients understand how to create a website which doesn't only look good, but also convert visitors into leads, customers or clients. We have over a decade of experience in helping our clients grow their business through a well-planned website which is optimised to convert more website visitors into paying customers. All of the websites we build get a once over for SEO to ensure your new website uses all of the best practices for your industry – as a leading digital marketing agency we know exactly what it takes to get to page one of Google.
Put simply, we are not "just" a web design company. let us know what you are looking for and join the list of happy Teckle Digital clients.
Teckle Digital Reviews
Teckle Digital
is rated

5

out of

5
based on
5
Client reviews on our Google business page.
Capital Chiropractic is a chiropractic clinic located in the centre of Edinburgh. Teckle Digital were approached in 2014 to provide our website design expertise and build a new website which had a clean design while also providing the relevant information patients required. 
The new website design utilises the latest version of WordPress CMS  and is also mobile friendly. 
We have also created an SEO strategy for Capital Chiropractic in order for them to rank high in Google.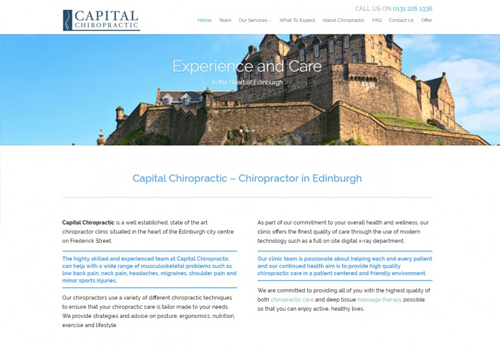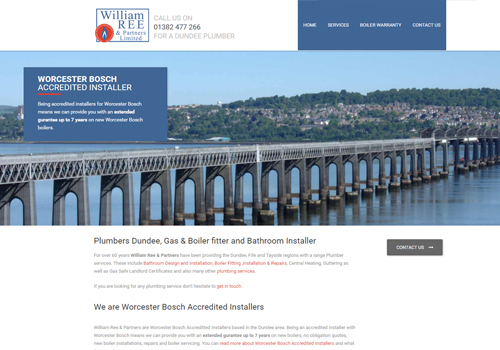 William Ree & Partners is Dundee located plumber, boiler, and heating company. They are also one of Teckle Digital's longest oldest clients. Originally William Ree & Partners required a website designed. Since then they have redesigned their website twice and also started an SEO service for the Dundee area.
The current William Ree & Partner website is a bespoke PHP website. They do have a new website in development, so be sure to keep a look out for it.
William Ree is an active SEO client of Teckle Digital and currently rank at the top of page one for their relevant plumbing, boiler and heating search terms around Dundee.
eSport Source is an informational and news website for the gaming industry. Teckle Digital were tasked with the job of providing a WordPress website which offers an attractive design with specific functionality imperative for the business. The website has been well received and does very well with user interaction and search position in Google. 
This website utilises the latest WordPress CMS, is mobile friendly and is also up-to-date with all of the best practices for both SEO and user experience. 
Teckle Digital also provide SEO services for the website on a monthly basis to eSport Source while the website grows its popularity.