We speak to a lot of local businesses in Edinburgh and they all have the same requirement in that they need to get higher in Google. There are some small businesses that simply don't have the budget right now to take on an SEO company and like anyone that has called us, we always try to give the best SEO advice possible. With that in mind, I decided to make a blog post to help those that either hasn't decided to give SEO a try yet or are simply looking for other ways of increasing their position by doing SEO themselves.
Without further ado, welcome to our FREE and best local SEO checklist. Granted, it's not a complete list of what an SEO consultant will do and it's unlikely you will wake up in the morning being #1 on Google. It will give you insight and knowledge of what to expect from an SEO company and may cut down the time it takes to get to page one when you do employ the help of an agency.
Google My Business
This 100% should be the first thing you do. Actually, if you don't have one do it right now… Here is the link: https://www.google.com/business/
I'll wait while you do it. *twiddles thumbs* Seriously, do it right now.
The Google My Business account will allow you to compete with your competitors for a spot in the elusive 3-Pack. These three map results will appear if someone has searched for something local, for example, "hairdresser in Edinburgh" will return a map with 3 results. On a mobile, you can click through to the website as well as call the business directly.
Seriously, once you get into the top three it can turn a business around in weeks!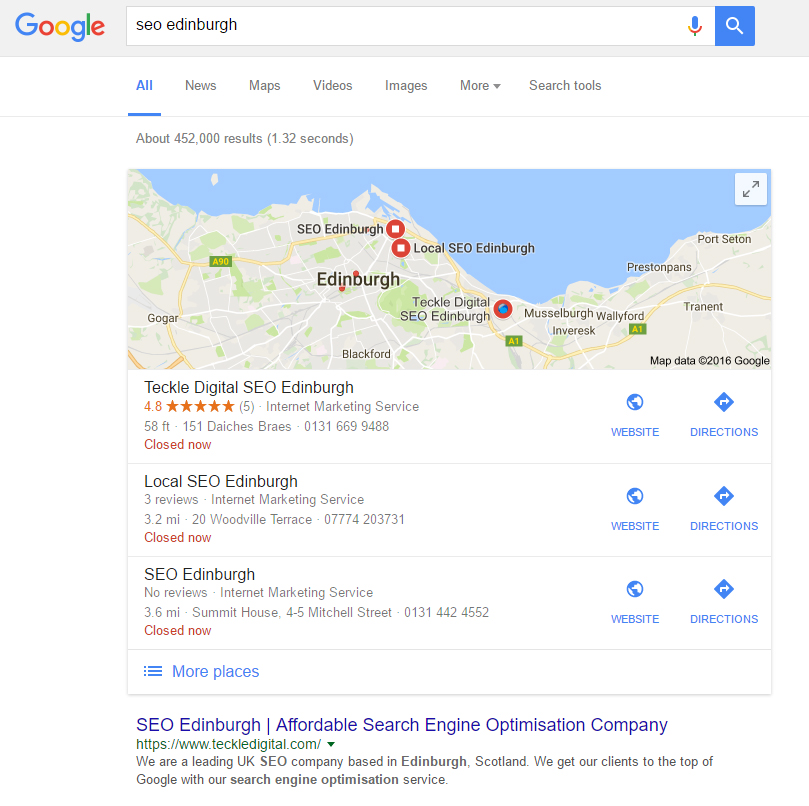 Reviews
This ties nicely into the Google My Business account. Google allows anyone to leave a review about your business. The likelihood of a customer doing it without being asked is very low. That means you need to ask and remind your customers to leaving a review. When your business receives 5 or more reviews on Google your account will qualify for the star rating, see below. I have known some businesses to offer discounts to those that share the best reviews.
If your business is in the travel industry your reviews may be better suited for a service like TripAdvisor. Just ensure you have Google My Business and your industry standard review platform if there is one.

Content is King
Search engines and social networks love content, just as much as customers love content that provides an answer to their question. Google runs with the concept that high-quality content that is relevant and interesting is the best thing since sliced bread. So we as SEO's use that to our advantage by providing Google with great content on a regular basis. This can be in the form of a new page, blog post, news article or even just rewriting an old piece of content will do the trick.
NAP – Name, Address & Phone Number
You have likely heard that adding your website to business directories is old or pointless for SEO. Well, that is wrong. All you have to do is read through the public information released about how Google (and other search engines) connect physical locations to websites and Google My Business pages to provide searchers with results that are both relevant and close to their physical location to realise directories can be one of the most powerful parts of getting high in Google. The NAP, or citation, is basically the process of adding your website, business name, address and phone number to high quality, local and industry relevant business directories.
The difficulty with this is finding high-quality ones and ones that are worth the time submitting. Every SEO company has their preferred list of citation websites and also have tools to find the best industry directories for each individual client.
On-Page SEO
This one is a biggie as well as impossible to cover in a blog post. Basically, Google doesn't care if you just had a new website built that looks great its what's inside that counts. My job as an SEO is to make sure Google doesn't have problems with the code by making sure the code is semantically correct, uses all the best practices as described by Google and more importantly there are no outdated or black hat techniques being used.  In the process of doing On-Page SEO, we will tend to move elements around the page to ensure usability (which is a MASSIVE factor for getting to #1) is increased and ensure visitors know exactly how to buy or contact you.
How Can an SEO Company Help & Why Use One?
I am willing to bet that 90% of people that read this, providing your not an SEO, will have to research at least 3 of the above topics. That, in my opinion, is just wasted time. We prefer taking these types of tasks away from our clients so they can focus on the more important business decisions. For example, most small businesses in Edinburgh are charged less than £500 a month for our local SEO services. Don't get me wrong that is a lot of money, but compare that cost with the fact that doing SEO yourself has risks, likely won't get you to where you need to be for an ROI and will also cost you more that £500 a month in your own time.
It does make sense to employ the help of an affordable and reputable SEO company. At the end of the day, we do this on a daily basis so we know exactly what works and what doesn't when it comes to getting to the top of Google. You can read more about why Tradesmen specifically need SEO and internet marketing as most of the points made are valid for other business types.
Contact us for a free no obligation consultation on 0131 669 9488.